"Chilled katsudon", which is finished with ice, will be sold only in the summer from May 1st!
2023.04.21
Thank you for your continued patronage of Katsukichi. It's the season where the wind of early summer feels good. How are you all doing?
By the way, this year as well, we have decided to sell the summer feature "Hiyashikatsudon". Thanks to you, we will celebrate the "22nd anniversary of the release" this year. Thanks to all of you who have supported us over the years. Thank you from the bottom of my heart.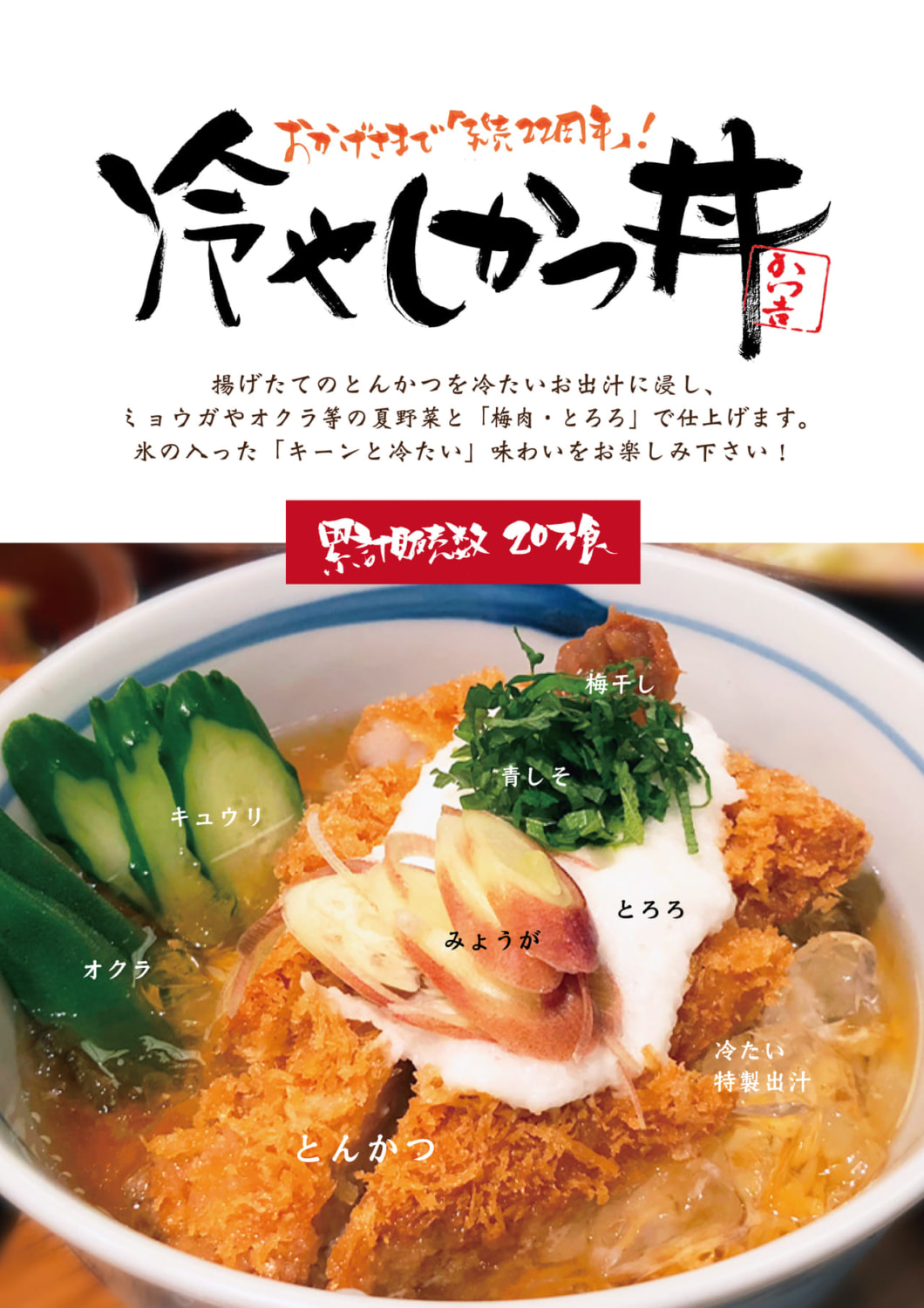 This year, from May 1st (Monday), it will be sold at Katsuyoshi Shibuya, Katsukichi Nihonbashi Takashimaya, Katsukichi Shinmaru Building, and Katsukichi Hibiya Kokusai Building only during the summer.
■ Features of "Hiyashikatsudon"
1. Uses freshly fried "Tonkatsu" made with traditional methods
Katsukichi is a tonkatsu specialty restaurant that has been in business for 65 years. Our "Tonkatsu" is a traditional method of making thick slices of domestic brand pork and slowly frying it in low-temperature corn salad oil.
2. Cold rice with summer vegetables
Pour cold dashi soup over white rice that has been washed under running water. Serve freshly fried "Tonkatsu" and finish with summer vegetables (cucumber, okra, grated yam) and condiments (myoga, green shiso, dried plum, wasabi).
3. Special soup with ice
Hot tonkatsu is finished with a special soup stock with ice. "Katsuobushi" from Makurazaki, Kagoshima Prefecture, "Makonbu" from Hokkaido, "Niboshi" from Kujukuri, Chiba Prefecture, and "additive-free soy sauce" with a history of over 100 years from Azumino, Nagano Prefecture are used. . It is a special soup stock that makes you feel the taste made from thick soup stock.
4. Sales price
Chilled katsudon (brand pork loin: 120g) 2,200 yen / (special loin: 150g) 2,700 yen
Chilled pork cutlet bowl (Brand pork fin: 120g) 2,400 yen / (Special fin: 150g) 2,900 yen
Comes with salad and pickles (all prices include tax) *Limited quantity. Please forgive me when it is sold out.
*At lunchtime, we will prepare a (100g) size [loin 2,000 yen/fin 2,200 yen (tax included)].
5. Sales period
Monday, May 1, 2023 to Saturday, September 30, 2023
6. Sales store
(1) Katsukichi Shibuya store
3-9-10 Shibuya, Shibuya-ku, Tokyo KDC Shibuya Building B1F
(2) Katsukichi Shinmaru Building Store
Shin-Marunouchi Building 5F, 1-5-1 Marunouchi, Chiyoda-ku, Tokyo
(3) Katsukichi Hibiya Kokusai Bldg.
2-2-3 Uchisaiwaicho, Chiyoda-ku, Tokyo Hibiya International Building B1F
*Only the Hibiya Kokusai Building store will be on sale from May 9 (Monday).
(4) Katsukichi Nihonbashi Takashimaya S.C.
2-5-1 Nihonbashi, Chuo-ku, Tokyo Nihonbashi Takashimaya S.C. New Building 6F
7. Related Sites
Official website: https://www.bodaijyu.co.jp/menu/lunch/1026/
Facebook: https://www.facebook.com/hiyakatsu
We will do our best to make our customers smile. Thank you very much